Wetting Agent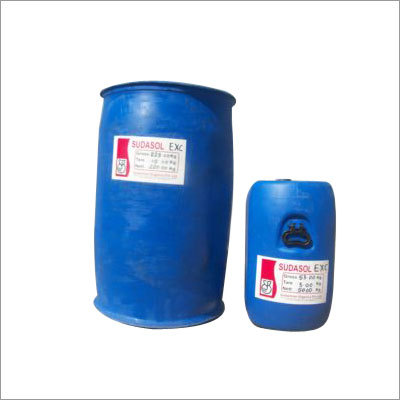 Wetting Agent
Price And Quantity
50 KG

Kilograms/Kilograms
Product Specifications
Product Description
We are highly engaged in manufacturing, exporting and supplying an excellent quality Wetting Agent that can soluble in water easily. It is extensively used in fresh or salty water for reducing mud rigs, impurities and many more. Offered chemical is efficiently processed by making use of supreme grade chemical substances in compliance with set industry standards. Also, it is used in drilling mud system for removing filter cake. Furthermore, we provide this Wetting Agent in various packaging options and at industry leading price.
Features:
Environment friendly

Precise pH value

Long shelf life

Effectiveness
Sudasol EXC

Most foliage of plants universe is hydrophobic (water repellent) to some extent- low repellence in some to totally zero adherence of water in other plants like cabbage etc. No plant exhibits immediate adsorption of water from foliar surface. This tendency of foliage poses a major problem to the farmer when applying any toxicants/micro-nutrient etc through foliar spray. In some plants we find hardly any spray solution is retained on the leaves and most of it simply slips off the leaves to ground, whereby the very purpose of adding a toxicant or feeding a micro-nutrient or PGR through foliar application is lost.
Sudasol EXC is designed specifically to address this problem faced by the farmers.

Normally to counter this problem farmers have to add an external wetting/spreading agent to the spray solution. This substantially adds to the cost to the farmer because of

The profit margins at each tier of the supply chain.

The added cost of packing and transportation of the external wetting agent.

The farmers many times not being aware/conscious of the ideal ratio of the wetting agent to be added.

Addition of extra ingredient in the spray solution making the preparation more cumbersome.

Extra logistics because the wetting agent may have to be procured and transported from a source different from the toxicant/nutrient.

Objective

The objective of designing SUDASOL EXC is to provide an ultra high performance wetting/spreading /dispersing agent to the agrochemical formulators which may be added in the formulation itself in a nominal ratio to impart inherent wetting /spreading property to the formulated product. This obviates the need of multiple procurement/packing/transportation of the wetting agent and offers the farmer one complete product giving perfect wetting ability and ease in use.

Advantages

SUDASOL EXC offers following benefits to the farmers

Lowers the surface tension of the spray solution so that the spray solution is retained on the leaves and does not fall off in the form of droplets.

Spreads the spray solution on the total surface area of the leaves thus reducing the volume of spray solution required.

Ensures complete wetting of the leaves thus increasing the efficacy of the toxicant.

Helps in making fine even dispersion of the toxicant in spray solution and prevents sedimentation.

Where the toxicant is used through soil application, it ensures quick absorption and deeper penetration of the solution in the soil.

Easy application because of toxicant/nutrient formulation also incorporating wetting property.

SUDASOL EXC offers following benefits to the formulators

Enormous value addition to the product at nominal cost.

Gives the product a definite edge in the market.

Specifications

Appearance: Clear colorless liquid
pH: 6.0-8.5
Non volatile at 105OC: 65%
Active ingredients: High performance combination of non ionic and anionic surface active agents.
Other ingredients: Organic solvents,
Viscosity: 45-50 centipoise @ 25 C

Dose

1.0-1.5% of the formulated product (10-15gm. /lit.)
Soil application: 0.1%-0.2% of solution (1-2gm/litre)

Add SUDASOL EXC to the final prepared formulated product and mix well till homogenized.

Applications

SUDASOL EXC acts as a spreader, sticker, wetting, dispersing and penetrating agent for foliar as well as soil applications.

It is compatible to most of the toxicants, micronutrients, plant growth promoters etc and does not interfere with their emulsion/solution stability. It does not react chemically with most of the agrochemicals and so does not affect their chemical stability.

It is therefore highly recommended to add SUDASOL EXC in required dosage while preparing agrochemical solutions/ emulsions whether for foliar or soil application to increase affectivity of the agrochemical by as much as up to 50%

Handling and storage: Should be stored in ambient temperatures, well below the boiling point under shade. Direct contact with flame must be avoided. Handle in well ventilated area. Keep containers tightly closed. Use suitable protective clothing.

Trade Information
Yes

Free samples are available
Customized Packaging.

Africa, Middle East, Western Europe, Eastern Europe, South America, North America, Central America, Australia, Asia
All India

ISO 9001 : 2015
Contact Us
Raghavji Ki Kothi, Sukhdham Kothi Gate Hapur Uttar Pradesh India +918045803180
Phone :+918045803180